CLOUD COMPUTING
Overview
Cloud computing has changed the way we work. Most businesses now store and access data and programs over the Internet, enabling them to be more mobile and collaborative. Our mission is to take the confusion out of the cloud decision-making process. Whether you're looking at a public, private or hybrid cloud solution we have the expertise to create custom cloud solutions to deliver practical, quantifiable and meaningful returns through cloud infrastructure.
At The Missing Link we have aligned ourselves with market-leading solutions to deliver first-rate managed cloud services that provide modular flexibility, reliability and security. The Missing Link products and services are based on our experience maintaining a high level of redundancy, availability and performance for our clients. We are an experienced cloud service provider and have experience working with businesses of all sizes and verticals on their cloud migration.
Cloud Offerings
Cloud computing allows for elasticity in IT like never before, it can provide movement in your business whether it be a mobile workforce; the ebb and flow of demand or the need to easily scale user numbers up and down. The cloud can be used for simple and automatic data backup, running applications, reducing hardware on-premise, running operations and connectivity on a global scale. Needs will differ per organisation and there is no one-cloud-fits-all model. Some business will prefer a public cloud solution to a private cloud solution, hybrid solutions are also increasing in popularity.
Hybrid cloud solutions are often chosen for two main reasons; either because businesses are bound by industry regulations or compliance standards; or because workload types or internet access isn't as suitable to a total cloud environment. The Missing Link can help businesses assess what type of infrastructure they need, where it should be located and how to take advantage of the technology to deliver the best performance for their needs.
Working with

The

Missing Link
The Missing Link has the experience to consult with you on the cloud computing model that best suits your business and tailor-make the most robust solution for your operating needs. The number of cloud options and configurations available can be daunting and many businesses find it difficult to choose which solution is best for their people, culture and business needs.
Not only can we provide consulting services for tailored cloud solutions, The Missing Link has also developed a secure multi-tenant platform that can host your workload on an efficient and flexible IT platform based on technologies from trusted top tier vendors. This can be a stand-alone Infrastructure-as-a-Service (IaaS) offering or as a component of our managed services. As a leading service provider we have access to all major public cloud services if that is your preference or the best option for your business.
Worried about cloud security? The Missing Link has an award-winning team of dedicated security specialists who can be engaged at any stage for your cloud computing requirements. Security considerations are fundamental to the planning, migration and ongoing management of The Missing Link's cloud computing services. Our full list of security offerings can be found here.
What are some of the

benefits

of cloud computing

?
Reduce capital and operational costs - No more servers, software, warranty cost and update fees - everything is covered in a transparent subscription fee.

Minimise downtime - With industry leading equipment, software and technical skills.

Maintain Security - Confidently and safely move sensitive data between your business and the cloud.

Increase scalability - Upscale or downscale your IT requirements to meet immediate needs.

Improve Mobility - By centralising your data, and accessing it securely from anywhere, at any time, on any device.

Boost flexibility - Employees can share documents and other files easily and securely to support internal and external collaboration.

Environmentally friendly - By only using resources you need, your carbon footprint is reduced.
Our Cloud Service Delivery model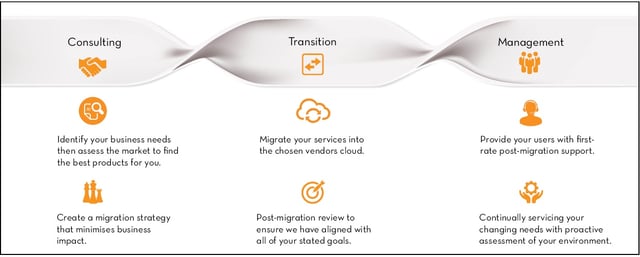 Cloud Readiness Assessment
Not sure if you are ready to move to the cloud yet? Contact us on 1300 865 865 for a Cloud Readiness Assessment. The assessment will provide you with a logical, phased approach to help understand and plan your transition to the most appropriate cloud solution.
Read our latest Cloud and related information posts:
Infographic: The Big 3 in IT – Cloud, virtualisation and mobility