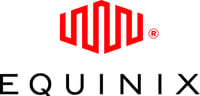 Equinix
Partnership: Silver reseller
Offering: Cloud exchange, Performance Hub, data centre solutions
Equinix connects the world's leading businesses to their customers, employees and partners inside the most interconnected data centres. In 33 markets across five continents, Equinix is where companies come together to realise new opportunities and accelerate their business, IT and cloud strategies. Equinix has three data centres in Sydney and one in Melbourne. Equinix Data Centres boast direct connections to over 240 cloud providers and 150+ network providers ensuring world class service for all their clients.
Equinix Cloud Exchange is an Ethernet switching service that enables private virtual connections for direct cloud access with automated provisioning. Cloud services are being quickly adopted worldwide, but concerns about them linger. People worry cloud services mean more expense with less reliability, control and security. The Equinix Cloud Exchange brings together cloud service providers and users, enabling them to establish affordable, private, high-performance connections within Platform Equinix.
Equinix Performance Hub allows high network demand to be met by simplifying your wide area network (WAN) and allowing your business to securely and reliably connect to the network and cloud providers directly. Equinix provides a robust, secure and distributed network that can meet private cloud and cloud application performance needs for all businesses.